Local Search Optimization (Google Maps)
About 76% of people who conduct local searches visit a local business within 24 hours. More notably, 28% of these people purchase something from the searched for local businesses. These statistics highlight the importance of local search engine optimization (local SEO) and its potential benefits for your local business, no matter the size.
As a local SEO agency based in Lansing, MI, we understand the SEO needs of local businesses and offer customized solutions. Here is an overview of our local SEO services.
What Is Local Search Engine Optimization?
Search engine optimization (SEO) refers to optimizing different elements of your website according to Google's guidelines and recommendations. SEO guidelines are the criteria that Google and other search engines use to rank websites on their search engine results pages (SERPs). Therefore, implementing an effective SEO strategy can help your website rank higher on SERPs.
Local SEO is based on the same principles and criteria as general SEO. However, the local business's website and Google Business Profile (GBP) are optimized for local searches instead of generalized searching encompassing similar companies countrywide or globally.
Local SEO is based on the searcher's location and search intent. Google's algorithms can detect when users' searches have local intent. For example, the query "open Chinese restaurants" implies that you are hungry and would like to visit an open restaurant serving Chinese cuisine. In this case, Google will recommend the most popular Chinese restaurants near your location.
Local search results are usually characterized by a local pack, Google Maps, a local finder, and localized organic results. Essentially, the local pack is a Google business listing – it displays your Google Business Profile instead of your website.
Ultimately, the goal of local SEO is to improve local users' online experience. Some of the most efficient local SEO practices include:
Google Business Profile (GBP) development and optimization
Google Business Profile optimization
Optimizing your website's various elements (such as web design and loading speeds)
Making your website mobile-responsive
Building citations
Local link building
Optimizing URLs, meta-descriptions, and title tags
Developing local content
Adding the business's location, address, and other contact information
Engaging with the local community and participating in local events also helps your businesses' online presence. We intimately understand how local SEO works here at Mid Michigan Interactive, and we employ efficient, white-hat SEO to get our clients the best results.
Importance of Local Search Optimization
 Over the last two years, searches for local places without the qualifier "near me" have grown 150% faster than comparable searches. Local listings on Google Places, Bing, Foursquare, and other local directories are geographically relevant and are more targeted to customers. 
30% of all searches on Google are tied to a particular location. 

61% of consumers perform local searches daily.

About 86% of all searchers use Google Maps to find local businesses.
You could be losing out on new customers and not even know it.
It is imperative that businesses gain and grow their online presence in the digital age. When you have a small marketing budget, local search optimization may be the only opportunity for your business to be found. If you ignore this, potential new customers could be going to your competitors instead.
What We Do? – Local Search Optimization
The first thing we do for our clients is run a Local Search Audit Report. In this report, we can see where your business stands locally compared to your competition.  We will see what your business is doing well and lacking in local search. 
With the local search audit report results, we can start to make a plan of action to move your business to the online presence it deserves.  This doesn't happen overnight. Just like with your business, it takes a little time to build. Once built, it needs to be maintained and improved, so it doesn't fall apart.

Mid Michigan Interactive's local SEO can help increase your local business's online and in-store traffic. This means that your business will get more potential customers, and a significant number of them may turn into paying, loyal customers. Local SEO will also boost your brand's reputation, visibility, and competitive edge.
We are known as one of the best SEO agencies in Lansing and Grand Rapids, MI. Our clients trust us to put their local businesses on Google SERPs' front pages for dozens of reasons, including:
Google Standards
Google has the most advanced and comprehensive SEO policy. It is also the most popular search engine. Our SEO services and strategies are based on Google's criteria and guidelines.
White-Hat SEO
Some SEO agencies may promise you quick, impractical results through black-hat SEO practices, but they can get your website penalized or even banned. However, you never have to worry about that as we practice white-hat SEO practices and still deliver positive and timely results.
Customized Solutions
Our local SEO services are customized to meet your unique needs and preferences. Our services also change and adjust to your business's changing needs.
Increase Your Customer Base Today
Let us help put your local business on the map using our advanced local SEO services. Get in touch today to learn more about our solutions.
Here is an example of a clients local reach before we started working with them.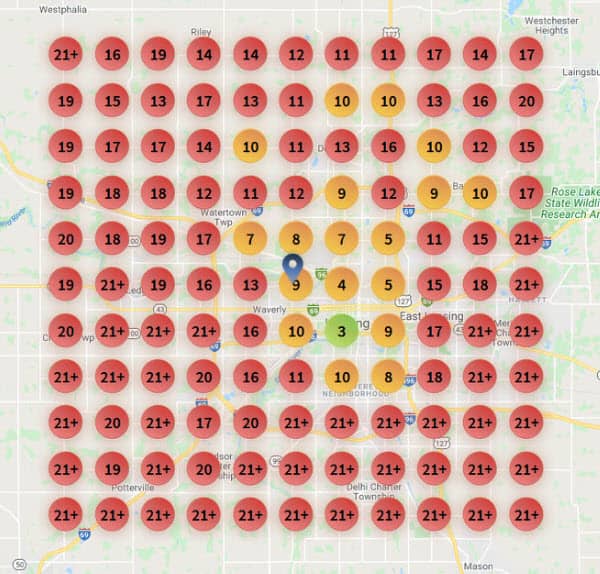 Here is where that client is now with our local search optimization services.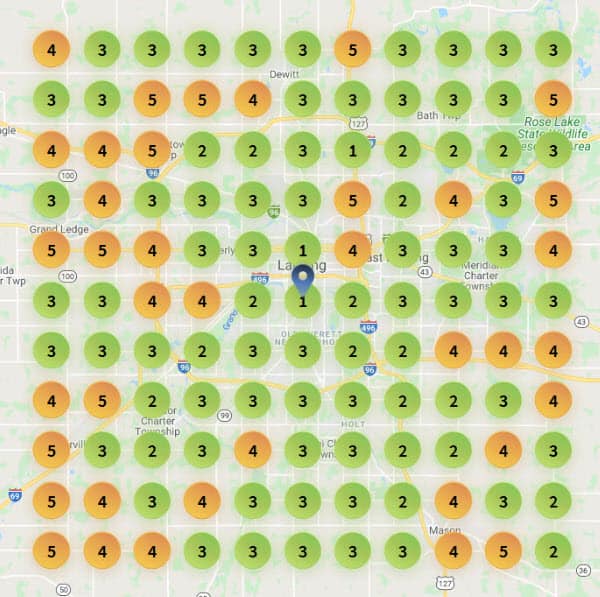 Local Search Optimization is a huge component for gaining new customers in this digital age. Another key factor with helping your local search results is increasing the number of reviews your business receives. You can read more about our reputation marketing services, along with our other great internet services by click the button below.